Collecting Velsen Pottery – Earthenware – Porcelain
(in English and Dutch). (site started on the 9th of may 2008)
Velsen polychrome pottery
At the end of the 1920's Eelke Snel (21 years old) and Koen Mertens (31 years old) started a ceramics factory in Velsen-north under the name "Pottery Kennemerland". Eelke Snel started out as a help in making the moulds at the Amphora factory in Oegstgeest.
From there he started working at St. Lukas in Utrecht. Then on the 20th of may 1920 he, Koen Mertens, Jan van Ham and Cees Muyens started a new pottery under the name "De vier paddelstoelen" (The four mushrooms). This didn't last very long and in December of the same year Eelke and Koen started their own company in Velsen.
This didn't seem to be the right combination, because only four years later Eelke went on alone. Mertens left the factory after a year (because they changed the process from handwork to using moulds), but did some Freelance work for a couple of years. Eelke tried to make a cheap but beautiful kind of pottery and succeeded , because shortly after this a lot of workers joined the factory. The first designs were hand painted with squares on a cream coloured and gray background (see pictures at the end of the picture gallery).
When the designers Carl Gellings and Willem Stuurman (see: www.dutchceramics.nl/willemstuurman.html) came into the picture, the simple designs turned a bit more to art. In the years to come the designs changed to more delicate objects. When the factory under the name N.V. Kennemer Potterij (IJmuiden-oost-Velsen) went bankrupt in 1932 (see scan taxationreport 7 mei 1932), the factory was started up again under the name E. Snel before known as N.V. Kennemer Potterij. In 1939 the factory was taken over by two former painters (Johannes Gerardus van Vliet en Leendert Hendrikus de Vrind - see pictures (with thanks to his daughter Elly de Vrind)).
In 1943 – during the second world war – the factory was ordered by the Germans to move. The factory moved to Sassenheim (Kerklaan, see GoogleEarth picture with new situation)and changed the name to "Velsen". There they started out with the old moulds, but soon came up with other forms of pottery, porcelain and ceramics. They also produced Delft Green and Delft Red, both with gold accents. Often smaller pieces (like windmills and ashtrays – see picture page) were complemented with metal parts. The objects were made and handpainted at the factory and then sent on to the company of Elesva for the metal parts. In 1953 disaster struck in the form of a fire and part of the factory burned down (especially the paintershall). To make sure the process went on, the painters were stationed in a local café (Café Juffermans at Warmonderdam). The leading painter was situated at the bar itself. The factory was rebuild and the manufacturing went on as before. At a certain time the company decided to do as other companies did and use a crown above the logo (see picture of a Delft Blue wall plate and the logo with crown). A short while later they decided to stop using the crown and whatever porcelain was still at the factory that still had the crown was destroyed. Velsen discontinued using the handpainted marks in the 1980's and from there the marks were stamped (see logo in first picture). After the devastating fire in 1993, the factory started up again. At that moment the factory was in hands of mr. Steketee and had 35 employees. When Wim van Baarle took over the factory in 1995, the factory began production of decaled Delftware with some handpainted accents and made a lot for other companies (like Norelco (Philips), Vanwaveren, Elesva and König). The new Velsen had only three employees in 1997, but had tripled in size in 1998 and taken on board Wim Neuteboom, a former Porcelain Jar (Porceleyne Fles) salesman. Unfortunately the sales went down and the factory had to close in 2002.
Velsen polychroom aardewerk
Eind 1920 begonnen Eelke Snel (21 jaar) en Koen Mertens (31 jaar) gezamenlijk een pottenbakkerij in Velsen-Noord onder de naam "Potterie Kennemerland".
Eelke Snel was begonnen als knechtje met het maken van gipsen gietvormen bij aardewerk fabriek Amphora in Oegstgeest. Vervolgens ging hij werken bij St Lukas in Utrecht.
Daarna, op 20 mei 1920, richtten Eelke Snel, Koen Mertens, Jan van Ham en Cees van Muyens "De Vier Paddestoelen" op. Deze combinatie was van korte duur, in december startten Eelke en Koen op de Wijkerstraatweg 213 hun eigen pottenbakkerij op.
Ook was dit duo kennelijk geen succes, want 1 jaar later vertrok Mertens (omdat ze van het handdraaien van de potten vazen overgingen op het gebruik van mallen) en ging Eelke Snel alleen verder. Mertens werkte er nog wel drie jaar op Freelance basis. Snel's doel was goedkoop en mooi aardewerk te leveren en daarin slaagde hij getuige het feit dat er spoedig meerdere arbeiders aangetrokken werden.
De eerste ontwerpen waren van zijn hand en versierd met blokjesachtige motieven op een roomkleurige of grijsachtige ondergrond (zie foto's aan het eind van de foto gallerij). Toen de vormgever Carl Gellings aangetrokken werd, werden de wat eenvoudige modellen aangevuld met kunstzinniger ontwerpen. Buiten hem werd ook Willem Stuurman (zie: www.dutchceramics.nl/willemstuurman.html) aangetrokken, welke aparte decors op bestaande vormen maakte.
Er verscheen in de loop der jaren een grote verscheidenheid aan modellen, van sierlijke vazen tot mooi gestileerde abstracte (dier)plastieken. De toenmalige fabriek onder de naam N.V. Kennemer Potterij (IJmuiden-oost-Velsen) ging in 1932 failliet (zie scan taxatierapport 7 mei 1932). Desondanks werd de fabriek opnieuw voortgezet onder de naam E. Snel voorheen N.V. Kennemer Potterij. In 1939 werd de fabriek overgenomen door twee voormalige schilders ( Johannes Gerardus van Vliet en Leendert Hendrikus de Vrind - zie foto's (met dank aan zijn dochter Elly de Vrind)).
In 1943, gedurende de 2e wereldoorlog, moest de fabriek verhuizen van de Duitsers.
De fabriek werd toen gevestigd in Sassenheim (Kerklaan, zie GoogleEarth foto van nieuwe situatie) onder de naam "Velsen", waar aanvankelijk nog gebruik gemaakt werd van de oude gietmallen, maar spoedig sloegen ze daar een heel andere weg in. Vanaf dat moment produceerden ze ook Delft Groen en Delft Rood, beiden met gouden accenten. Vaak werden kleinere zaken (zoals molentjes of asbakken – zie voorbeeld tussen foto's) aangevuld met een deel metaalwerk. Hiervoor werd eerst het object gemaakt in de fabriek en dan doorgestuurd aan Elesva voor de aanvulling met de metalen delen. In 1953 werd de fabriek getroffen door een grote brand, welke de schilderszaal en een deel van de fabriek vernielde. Om te zorgen dat het proces en verkoop doorgang konden vinden, werd de schilderszaal gesitueerd in een locaal café (Café Juffermans aan de Warmonderdam). De chef werd geplaatst aan de bar zelf. De fabriek werd gedeeltelijk herbouwd en de zaken kwamen weer op gang. Op een bepaald moment werd een kroontje boven het logo aangebracht (zie foto's van een bord in Delfts Blauw met logo), maar korte tijd later kwam men hierop terug en is alles wat nog aanwezig was met het kroontje vernietigd. In de jaren '80 werd gestopt met het handmatig aanbrengen van het logo en werd deze er op gestempeld (zie later logo in 1e foto). Na de verwoestende brand in 1993 werd er een doorstart gemaakt met de fabriek. Op dat moment was de fabriek in handen van de heer Steketee en had 35 medewerkers. Toen Wim van Baarle de fabriek overnam in 1995 werd er nog weinig handgeschilderd en werd een hoop vervaardigd in opdracht van andere bedrijven (zoals Norelco (Philips), Vanwaveren, Eleva en König). Het nieuwe Velsen had in 1997 nog maar drie medewerkers, maar voor het eind van 1998 was dat verdriedubbeld en kwam Wim Neuteboom over van de Porceleyne Fles. Helaas liep de verkoop van het Delfts Blauw terug en werd de fabriek gesloten in 2002.
Potterie Kennemerland, Velsen 1920-1921
Kennemer Pottenbakkerij, Velsen 1921-1929
N.V. Kennemer Potterij, Velsen 1929-1932
E. Snel voorheen N.V. Kennemer Potterij, Velsen 1933-1936
Kunstaardewerkfabriek Velsen, Velsen 1936-1942
Keramiekfabriek Velsen, Sassenheim 1942-2002
Painters initials and names:
B.L. = Bart Lardé
H.B. = Henk Boot
N.T. = Niek Turenhout (also used Nico T.)
N.K. = Niek Koelewijn (also used only Nic., checkout the story at the painters page)
P.V. = Piet Verhoeven (also used VP and was called "Rooie Piet" - "Red Piet")
J.D. = Jaap van Doorn
W.P. = Wim Pouw (Checkout the story at the painters page !!)
R.B. = Ria Bonte
H.R. = H. Reyngoud
A.D. = Anthon Diederiks
V.E. = Willem van Egmond
E.C. = Elly Capteyn
M.S. = Marian Sobus
A.W. = Alexander Wlassow
G.B. = Gerrit Bunschoten (decorations)
F.L. = F. Lagerwaardt
J.M. = Jan Miedema
G.E. = Gonda Eveleens (worked at the factory for 6 years between 1981 and 1992)
D. = D. Dorresteijn (manager)
K.K. = Koos Kemner
A.V. = A. Vink
. = J. Ritmeester (just a dot as mark)
J.S. = Joop Slinger
J-L = J. van Leeuwen (decorations and landscapes)
W.B. = W. Blok (homeworker Gouda)
R.K. = Ria Korsuize
J.H. = J. van der Horst
J.L. = Joop van der Luit (Checkout the story at the painters page !!)
G.W. = Gerard Waasdorp
H.B. or B.H. = H. Bisschops
C.V. = Cas van der Ven
S. = Schoonewoerd (Gouda)
A.G. = A. Gravenstijn (Gouda)
E.H. = Ellen Hogewoning
H.J. (combined) = H. de Jong (Gouda)
G. = Jan van Gijzel (Gouda)
J.H. = J. Haverkort
P.Z. = Peter Zoet
Q.W. = Qurines (Rinus) Warmenhoven
E.B. = Eef Bruinings (did hardly any polychrome)
J.W. = Jaap van der Wal
H.V. = Herman Veldhuis (Homeworker, before working for Velsen worked from 1946 till 1952 for The Porcelain Jar - De Porceleyne Fles. Worked with Velsen from 1952 till 1963. Was born on the 19th of November 1916 and died on the 28th of June 2002).
L.D. = Louis Dieleman
P.W. = Piet Wassenaar
H.V. (V under the H) = Hannie Verlint
F.L. = Frans Leder
B.S. = Bart Spigten
D.B. = D. Brem (also used BR)
B.R. = D. Brandjes
C.M. = Cocky Mens
B.R. = Ben Rouw
K.K. = Kees Kipping
L.K. = Leo Kaptein
J.M. = Jan Mank
R.H. = Roel van den Heuvel
J.S. = Jaap Stoute
W.H. = Wim van der Holst
J.M. = Jaap Muller
J.W. = Jan de Winter
E.E. = Ellie Eisinga
P.V. = Piet Versluis
P.K. = Paulien Kokshoorn (married to Bart Lardé - see story at painterspage).
A.S. = Arie (Arty) van Schaik
P.Z. = Peter de Zwart
C.L. = Coby Looi (Delft)
S.B. = Sjaak Bitter (Delft)
B.M. = Bram Melet
L.M. = Leen Marbus
E.B. = Eldert Bruyniks
L.B. = L. Bruyniks (decorations)
S.B. = S. Bitter (decorations)
J.M. = J. Müller (decorations)
GvT = Ghislaine van Tongeren (site: www.ghislainekeramiek.nl)
W.V.V. = Will van der Velde (Homeworker in the late 50's - early 60's also worked for Delftse Pauw - Delft Peacock and for The Porcelain Jar - De Porceleyne Fles).
E.L.A. = Ernst Langkruis (Homeworker ).
A.P. = ???
C.M.B. = Cobi Berg
B.O. = Bram Owel
I. in V. = Ina Veen
Harm van der Berg (No idea what he did at the factory....see pics at the end....)
***********************************************************************************
Stories of painters, see painters page......
Verhalen van de schilders, zie schilders pagina......
***********************************************************************************
Store - Magazijn:
Simon van der Kraan
Catharina (Wiep) Wiebes
Ria ten Bosch
Coby Stuen
***********************************************************************************
Office:
Leny Versteege
Marijke van der Woerd-de Kooker
***********************************************************************************
Aanvullende informatie:
In de jaren zeventig en tachtig (1978 tot 1989) hebben drie schilders van Velsen (J. van Doorn, N. Koelewijn en P. Verhoeven) een zijstap gewaagd en zijn voor een andere aardewerkfabriek gaan werken met de naam De Leidsche Fles (zie foto's in de fotogallerij) - eigenaar Lou Guldemond -. Zij maakten daar gebruik van dezelfde mallen als Velsen en produceerden ook het bekende Delfts Blauw, Delfts Rood, Delfts Groen en Polychroom. Het logo van de fabriek is ontworpen door Nic. Koelewijn. Na overname van de fabriek en het overlijden van de werkgever hield de fabriek op te bestaan.
Additional information:
In the seventies and eighties (1978 till 1989) three painters from the Velsen factory (J. van Doorn, N. Koelewijn and P. Verhoeven) started at another earthenware factory with the name De Leidsche Fles (see pictures in the picture gallery) - owner Lou Guldemond - . They used the same moulds as Velsen and produced the well known Delft Blue, Delft Red, Delft Green and Polychrome items.
After the factory had been taken over and the employer died, the factory seized to exist.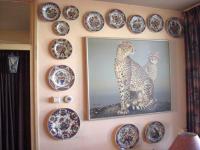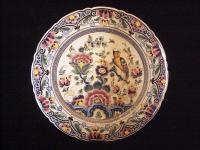 Afbeeldingsgalerie